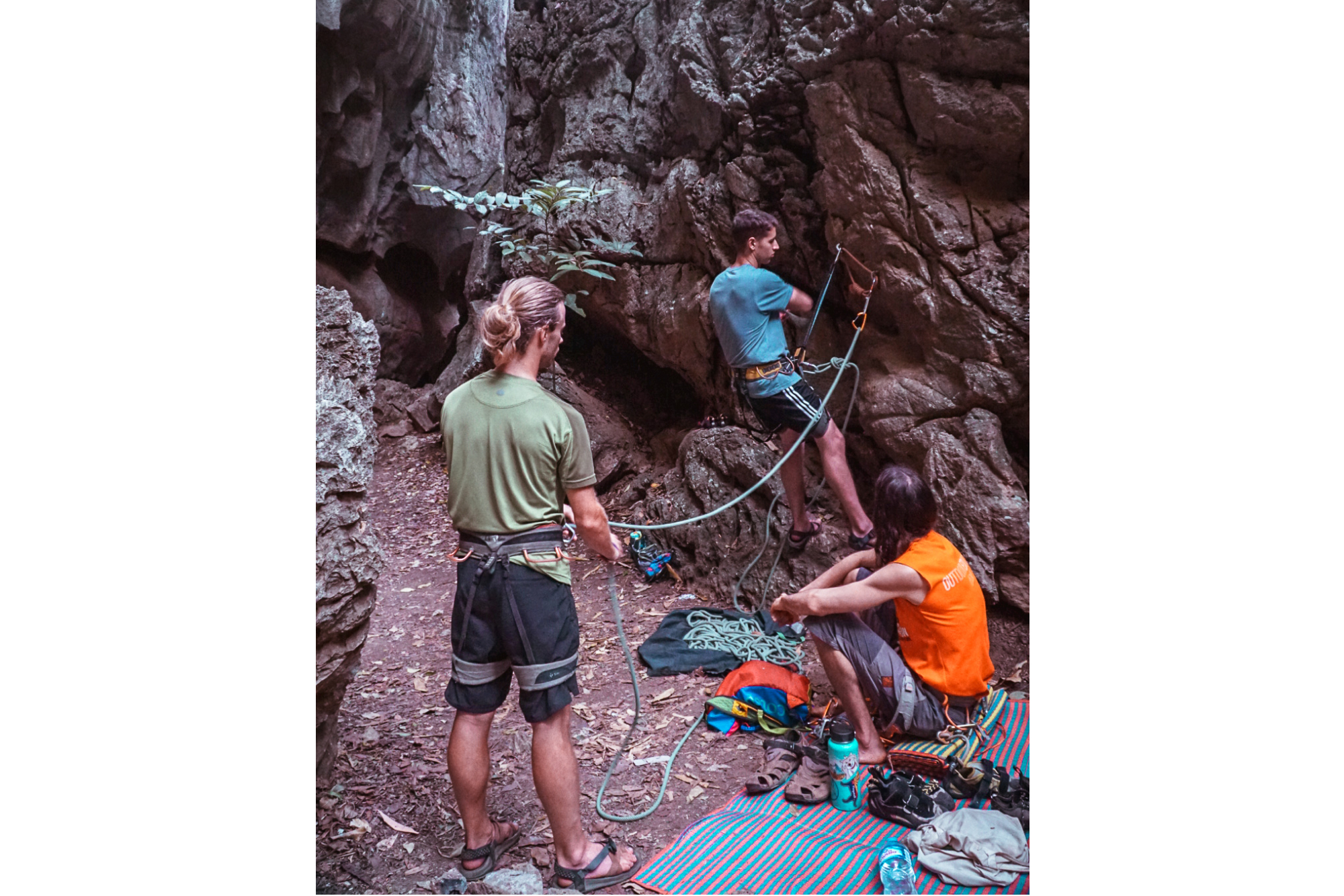 The lead climbing class was our missing link in our climbing experience thus far. We've done top roping, bouldering, and a Mazamas basic climbing course (primarily geared towards mountaineering opposed to rock climbing) but could never get fully into climbing. It wasn't until we learned how to lead and have the freedom of setting and cleaning our own routes that we understood why people become dirtbags and live on the crag. After the course, we felt prepared enough to practice on some easy routes the next few days.
Our original plan was to only stay two nights. We stayed for four and skipped Vang Vieng. We just fell in love with Green Climbers Home. The property is split between Camp 1, Camp 2, a yoga shala, and massive climbing walls that surround the entire property. Camp 1 and Camp 2 have bungalows or tents you can stay in. We opted for the pavilion tent that had a mattress in it. Fancy. You can stand in the center of the property and hear climbers on a multi-pitch route on the wall to the west while another group climbing on the far east wall. The rock was mixed with climbing stalactites, tufas, sharp limestone (some of which still resembled coral formations), crazy overhangs that lead through tunnels and caves, and slab climbing. There are 400 routes, leaving us with plenty to explore with our level of experience. We met several climbers who were there 2 or more months and they still haven't discovered all the routes. We spent everyday climbing for about 6hrs a day, chilling in hammocks, drinking Beerlao, eating quality vegetarian food, doing sunrise yoga in the yoga shala, and Rach managed a sunset swim in the cave behind Camp 1. We figured out daily budget at Green Climbers was going to exceed our daily travel budget but we're thoroughly surprised expenses totaled less than $30/day which included accommodation, food, drinks, full package climbing gear rentals for 4 days, and a lead climbing course.
Although it was tough for us to move on, we knew there was still do much to see in Laos and we had to be in Thailand towards the end of March. We decided to move on to Luang Probang which ended up being a 24hr travel experience just getting there.