The Galician coast hugs the entire west side just before the very end where you climb over a hill to Baiona. The trail over the hill was an old roman road where you could see the groves of wagon wheels slowly etched into the stone roads. The Galician Coasts cute little towns shifted to big city once in Baiona and Vigo. Dan ended up looking ahead a day in advance to book at accommodations in Vigo. We noticed it was cheaper to get an AirBnb than it was to stay in an Alburgue due to the size of the city and the route going through the more expensive side of the city. We lucked out yet again with our Airbnb host who was a bit of a renaissance man from working as a masseuse, odd jobs, and starting a psychedelic rock band influenced by Godspeed You Black Emperor and Explosions in the Sky. He had more of a couchsurfing vibe than Airbnb as he agreed to our invite in sitting with us for dinner we made and wine. Vigo surprisingly had a home-like feeling. It reminded us of Seattle, with the industrial harbors, overcast grey city contrasted against green forests, and the haze of clouds that made the walk seem like you were always alone. This was our last stop before we met up with the Central Route for the last push. It was also the last feeling of being alone on the walk that we would have.
The Galician Coast route meets back up with the main Central Route in Redondela. We were feeling good so we decided to push it a little bit further than Redondela to get off the guidebook routes so we would find more availability in alburgues that were in between the main guidebook stop and end points. Going against the grain let us secure cheap accommodation in alburgues at every stop. In Herbon, just east of Pedron, we stayed in an old convent that was donation based. It was run by a fryer who had a sheep named Baby follow him throughout the convent grounds. It was a beautiful old campus. The cathedral was primarily devoted to Spanish Saints that cities in California are named after, such as San Diego and San Francisco. We learned the harsher side of what life was like in a convent after Rach and a new Japanese friend got on the naughty list with one of the nuns for having voices that carry in small rooms. At dinner, the whole group was scolded for being too loud and had the rest of our dinner withheld from us. It also didn't help that there was a group of 10 high school boys in a small cafeteria with 30 people total. We felt that this is what the rigidity of Catholic school must be like.
We never stopped meeting and walking with new people every day. On one of the Central Route days, we stayed in alburgue where a pilgrim from South Africa was also staying. Picture a small old bald white dude with voice that carries over any crowd. Now put him in neon pink short shorts, a large backpack, a daypack strapped to his belly, and two grocery bags filled with food and at least 2 bottles of wine. Now feed that dude those two bottles of wine and spark up a conversation (a nightly routine for him). He was the king of dad jokes, silly rhymes and tried to force wine down a quiet Korean girls throat. Luckily, he didn't stay at the convent. He would have had a ruler over his wrists within a half-hour if he stayed there.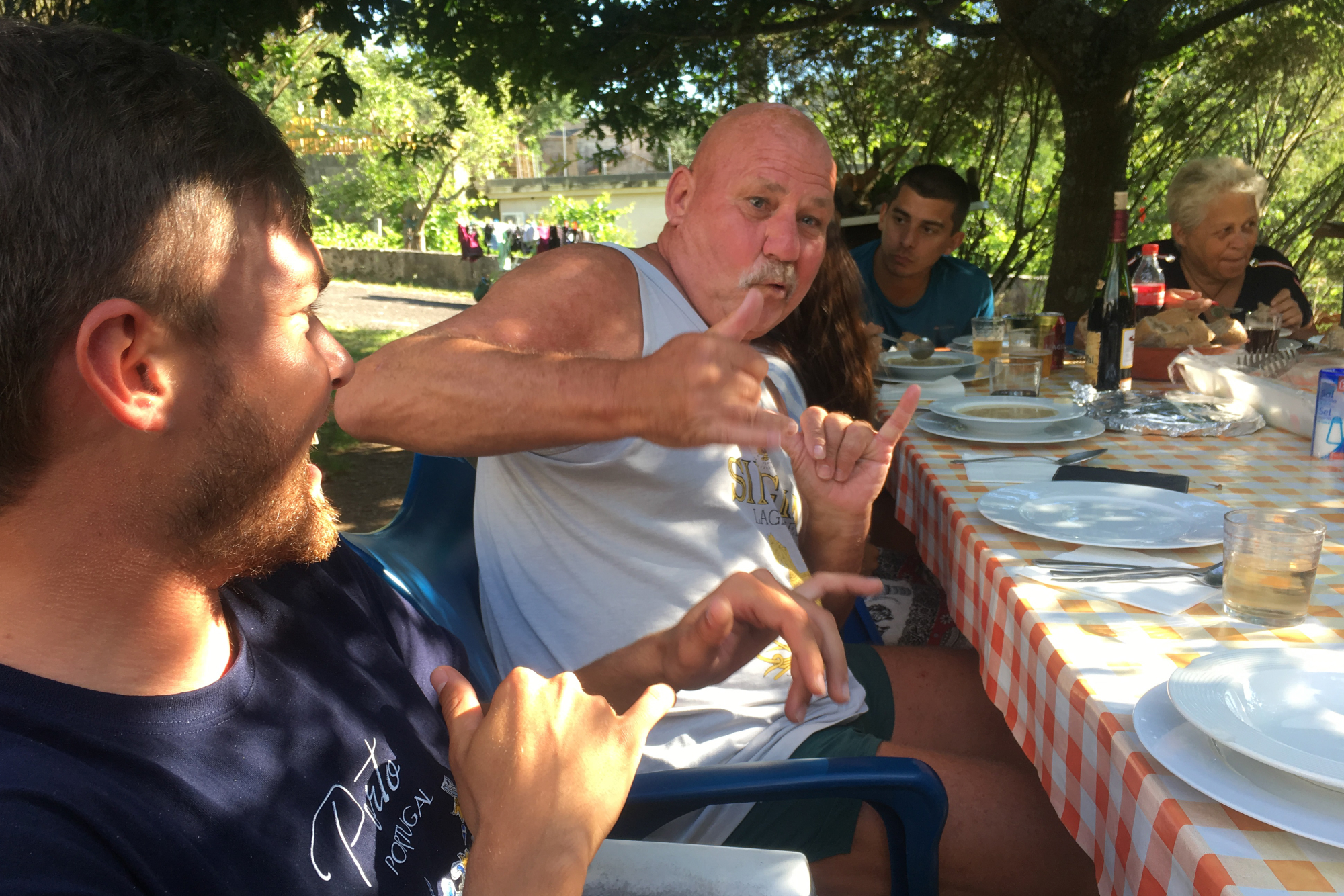 After a total of 11 days, we made it to Santiago de Compostela, the official end of the Camino. It was a long walk and the last day showed it. The walk ends at the cathedral where all the routes lead to. We dropped our bags, hit the ground and basked in the warm sun under the cathedral, a beautiful way to end the camino. It was a gratifying feeling that was shared, not just amongst us, but also the entire plaza the cathedral faced. Tons of people who walked or rode bikes were sharing cheers, selfies in front of the church in a state of excitement and a quiet calm as the realization their walk came to an end. Everyone parks it at the cathedral before heading down to the pilgrims office. We arrived late thus the pilgrims office was packed. We decided to find an alburgue for the night and get our certificate of completion the following day.
We made great time and still had 4 days to spare. After getting our certificate of completion, we boarded a bus to Finesterra, Latin for, 'The End of the World'. Before Christopher Columbus set sail for the Americas. This Finesterra was considered the western most tip of the world by Spaniards. This tip was also where the Camino trail markers countdown to 0km, an exciting sight to see when beginning at over 250k km! Although the Camino officially ends in Santiago, the trail continues to Finesterra. Sure, we could have kept walking, but you walk for 11 days on concrete and cobblestones and then decide whether you want to walk 3 more days. You'll book the seats right next to us on the bus to Finesterra.